No doubt, if using the right tools, cleaning the oven can be painless.
You have deep cleaned your whole kitchen, but your dirty oven is still there mocking at you? We have all been there.
Grease and pieces of burnt food in your oven can unfortunately absorb the heat and make your appliance function not at its optimal capacity. Keeping your oven glass clear also helps you take a sneak peek at your tasty meals.
How to Clean Your Oven Quickly
The door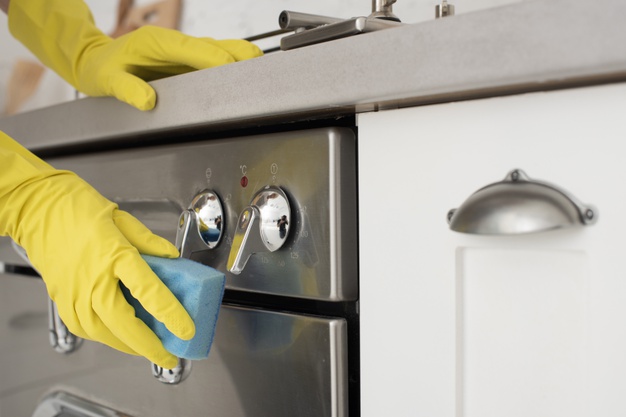 Use a spray-on oven cleaner and metal spatula to remove any food leftovers. Or, you can use a paste made with baking soda. If you can take the glass off, soak it in a cleaning solution of biological detergent in order to remove grime.
The Inside and Shelves
Buy a specialised oven cleaner to thoroughly clean your appliance and the shelves. Make sure to follow the instructions on the label and keep in mind that oven cleaners cannot be used on AGAs and stainless steel.
If the shelves fit in the dishwasher, you can wash them there to save time. If they do not, soak them in a storage box in a cleaning solution of warm water and washing detergent. You can simply use a mild abrasive cleaner to clean off grease and food.
How to Keep It Clean
Once you have deep cleaned your appliance, it is not an easy task to keep it sparkling. Take advantage of these hacks provided by our company:
After cleaning the oven, use an oven sheet to line the base with. These non-stick sheets will be your friend because thanks to them you will never have to clean the oven floor again.
To stop splatters and spills, use roasting bags for fish, meat and vegetables.
To help loosen grease and dirt, put a heat-resistant water bowl filled with water inside the oven and heat at a high temperature for 15-20 minutes as soon as you have finished using the appliance.